Post by God on Sept 25, 2007 18:27:10 GMT -7
Name
: Thomas Avery
Codename/Nickname
: Judge
Race
: Pretender, Caucasian, American Vampire.
Sex
: male
Age
: 474. Died at 35.
Appearance
:
Height
: 6'3".
Skin Tone
: light tan.
Eyes
: blood red.
Hair
:
Length
: shoulder.
Style
: plait.
Color
: black. No tattoos.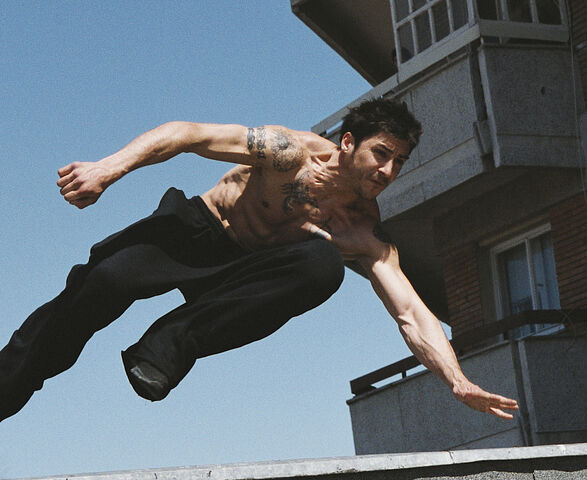 Clothes
: black combat boots, black BDU pants, black skin-tight t-shirt, black stetson, black stab-stop tactical vest, black duster coat.
Weapons
: Refer to Possessions board. All weapons are blued, and all except shotgun are equipped with infrared laser sights.
Vehicles
: Bugatti Veyron submersible, Humvee Alpha, Lamborghini Reventon, VW Eurovan, Dodge Tomahawk Motorcycle, Shelby SSC Ultimate Aero TT (Euro refit).
Skills
: some training in kendo, judo, tae-kwon-do, karate, boxing. Skilled in fencing, forest survival. Multitude of technical skills.
Powers
: Reader, Pusher, mover.
History
: born 1545, Thomas excelled at smithing, and joined the Raleigh expedition with his wife and daughter. In 1585, he helped helped establish Roanoke colony. In 1590 while scouting for ore, he was possessed by the croatoan demon, turning him into a vampiric beast. He wiped out the entire village, gorging himself on their blood, including his wife and daughter. When the follow up vessel arrived, it found the village deserted because all the corpses walked away. They resettled, and he feasted again. This time, the rush of blood restarted his heart and with it, his humanity. It was at this time he became the Judge of the Undead, traveling the New World and slaughtering his many offspring.
In 1947, he was working as a bouncer at a jazz club when an army nurse returning from France, decided to treat herself. They found themselves dancing to Glenn Miller's "In the Mood". They got married a year later. In 1951, yet another love was cut tragically short. The Luciano crime family tried to use Thomas' wife to extort him. She died in the rescue attempt. This triggered him turning to the FBI, becoming an informant, and eventually an agent.
Quirks
:
Favorite Music
Homes
: New York, NY (NSA). Leons, France (Joint INTERPOL/PIDA). London, England (MI6). Venice, Italy (personal). Moscow, Russia (INTERPOL).
Occupation
: PIDA Six.